From manhole cover lock to remote monitoring IoT manhole cover open sensor/detector with real time SMS/Email/Siren alert notification
Introduction
Manhole is the entrance to the underground supply systems that include telecommunication networks, water supply networks, gas supply networks, electricity networks, and so on. Although it is very crucial to a city's operations, the manhole covers can be one of the least protected and most vulnerable assets.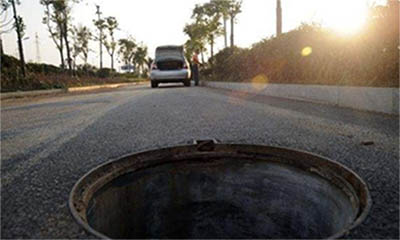 Manholes and manhole covers are everywhere.
Manhole cover missing is on the rise and becomes a considerable issue. An unauthorized opening of manhole is very dangerous, it can cause deadly fall-in accidents to people and also inflict potential damage to public property.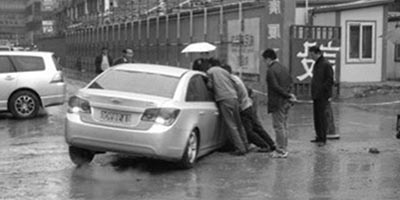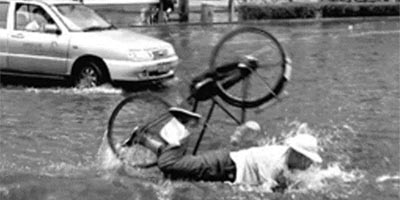 Manhole cover losses & accidents in China
The conventional manhole locks
To protect the manhole and prevent it from being opened by simply a manhole cover hook, conventionally, people like to use the manhole cover lock, as shown in below picture.
One problem is that it is hard for the manhole agency to manage so many manhole keys and increases the job difficulties, sometimes the worker on the spot may just forget which key to open the manhole.
Another problem is that it may make the road surface uneven with the additional key structure on the manhole.
Manhole cover lock and protector.
As substitutive solution, the manhole cover open monitoring remotely avoids the above two problems.
IoT Manhole cover open detector
With WiiHey's Manhole Cover Open Detector, we can deploy real-time monitoring and alert against metal cover theft, vandalism, and unauthorized access of manholes. The product utilizes a range of commercially available, off-the-shelf sensors to detect and prevent manhole related incidents. Signals are transmitted from the sensor device to a cloud platform via LPWAN (Low Power Wide Area Network) technologies, such as GPRS, NB-IoT, Cat-M1, etc. The sensors in combination with the cloud-based dashboard will allow you to monitor and well plan the maintenance of manholes.
Manhole Cover Open Detector
How it works?
The sensor detects two statuses of the manhole cover - opened or closed.
During installation, the sensor is sticking out of the manhole surface, indicating the manhole is in "opened" status.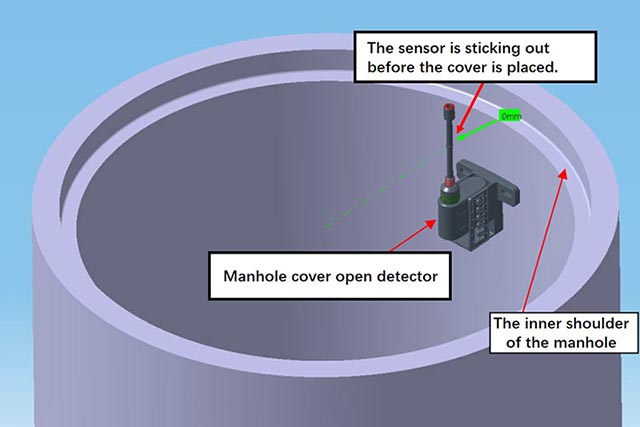 Manhole cover is opened
After the manhole cover is placed on it, the sensor is bent over, indicating the manhole is in "closed" status.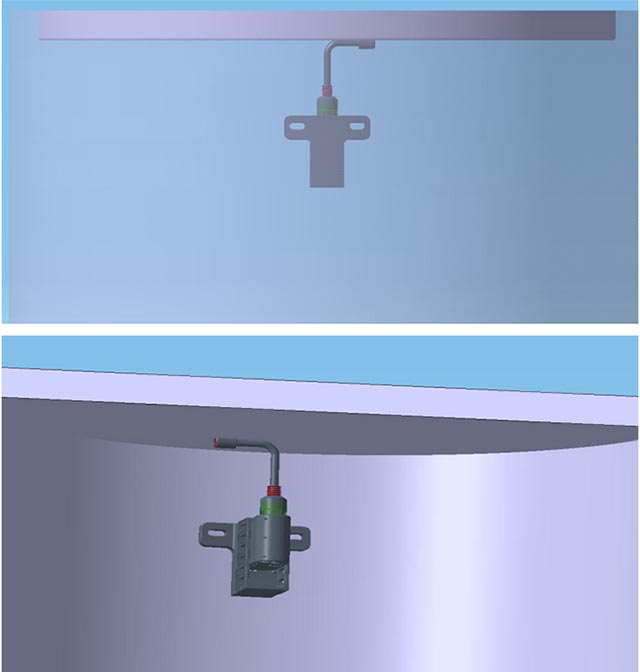 Manhole cover is closed.
If the sensor becomes straight again after the manhole cover is moved away, then it detects the manhole cover is opened and immediately send out alarm information to the management department to arrange people to check the relative manhole cover.
Architecture
The sensor supports LPWAN IoT communications technologies, such as GPRS, NB-IoT, Cat-M1, etc. They combine high transmission ranges of up to several kilometers in urban environments, with low power consumption. Data is transmitted to cloud data center for processing and fusion. Eventually, operators could view every manhole status from a cloud-based GIS dashboard.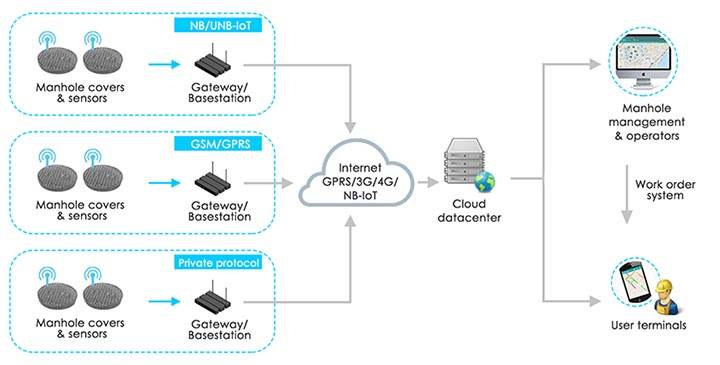 System architecture
Key Features
Network: NB-IOT, GPRS;
Battery and sensor health report: every 3 days;
Built-in Battery: 19000mAH Lithium Battery (5 years' duration);
Ingress Degree: IP68;
Working Temperature: -25 ℃ to 65 ℃
One monitoring cloud server could connect more than 100,000 sensors;
Cloud based platform with GIS (Geographic information system) dashboard;
Automatic email and SMS alert notification support;
Benefits
Low communication cost ( <10M bytes each month);
Monitor, report and optimize your manholes;
24/7 monitoring and immediate alert;
Easy to install, wireless communication and free maintenance;
High flexibility and reliability, available to urban and rural environments;
Applicable to...
Manhole cover;
Sewer cover;
Sewer lid;
Pipe hole cover;
Cable hole cover;
Drain cover;
Hardware installation
Detailed information of manhole cover sensor could be found here - WiiMCO Sensor.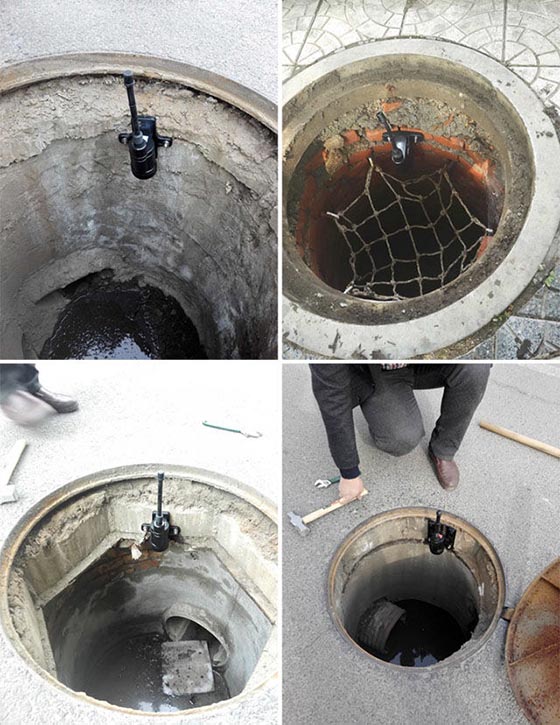 Manholes and WiiMCO sensors
Software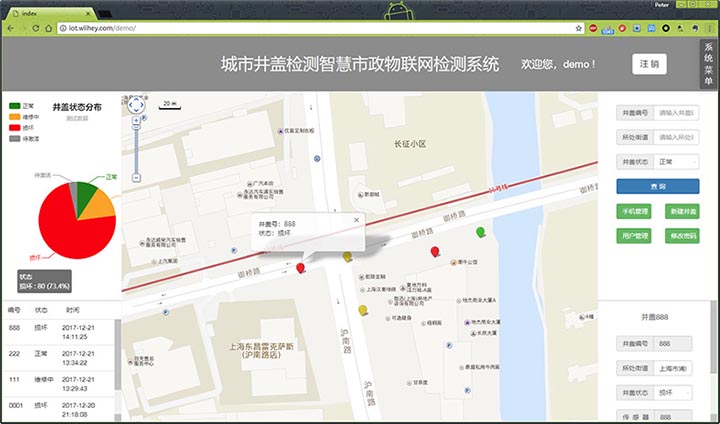 GIS dashboard
It contains status monitoring, location information, statistical results & querying.
Extension & customization
WiiHey manhole monitoring solution is a framework. The hardware devices and the dashboard application is a perfect example of customization. Depending on your application we have range of sensors and technologies at our disposal. Whether it is for gas detection, heat detection or flooding detection through manhole monitoring, we can customize the solution and tailor them to fit your needs.
Summary
With WiiHey manhole monitoring solution, thousands of covers are monitored simultaneously, and every cover is individually identified and mapped. It allows immediate positioning of unauthorized attempts on each manhole. This facilitates an immediate focused response by security or management operators via the GIS cloud-based software application.
Data integration guide
For sensor data integration, 3rd party companies could view following programming guides to learn more about WiiHey's DaaS (Device-as-a-Service) Platform:
Sample Project based on NodeJS
WiiHey Manhole DaaS (Device-as-a-Service) platform client in Web Browser
WiiHey Manhole Cover Sensor Programming Guide
Ordering and Shipping
Details of the sensor hardware could be found here - WiiMCO Sensor.
Contact us by this E-mail sales@wiihey.com for ordering and shipping information.