Solar PV panel module level power electronics (MLPE) monitoring, rapid shutdown, and optimization
Introduction
Photovoltaic (PV) systems have been used for many decades. With the focus on greener sources of power, PV serves an important source of power for a wide range of applications. Today, improvements in converting light energy into electrical energy as well as the cost reductions have become an urgent issue.
The energy production of PV systems changes significantly during the year, making it difficult to estimate their performance. Many factors have impacts on the energy production: weather conditions, module degradation, or simply due to some tree limbs starting to grow over the PV panels.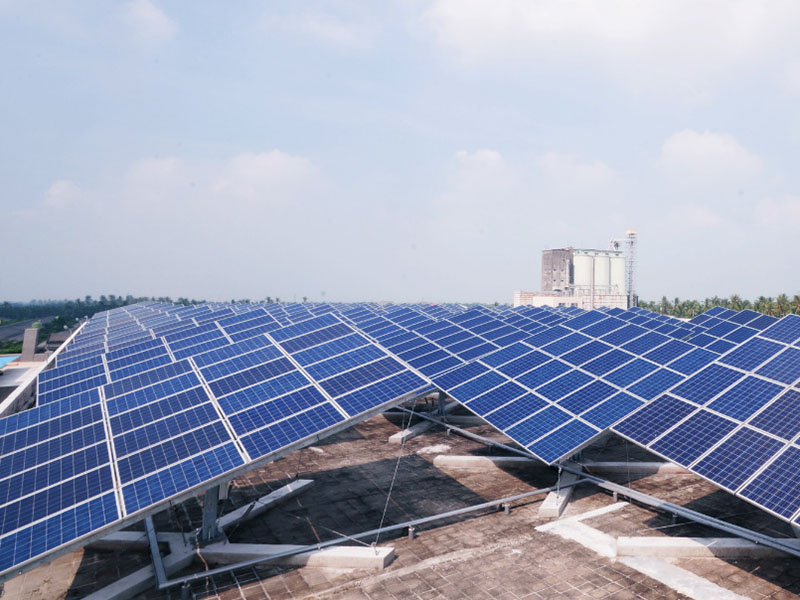 Solar PV system
For small systems, manual observation may be sufficient. But for a larger, commercial set up, reporting may be automated through means of modern IoT technology. Automated reporting has the advantages of direct digitally recording into a database and notifications of fault alerts. Customers could check real-time status and see what the fault cause might be to immediately take actions and maximize the PV system power.
Solar PV monitoring
As the output of PV system is changeable according to solar radiation intensity and other conditions, monitoring and control is essential for reliable functioning and maximum yield of any solar PV system.
Since a solar PV array consists of a number of individual PV modules connected together to give the required power with a suitable current and voltage output. Module-level monitoring allows customers to monitor the production of each individual PV module.
For module-level monitoring, the constant voltage measuring is the simplest method. The method uses single voltage to represent the VMP (Maximum power output voltage). The actual performance will be determined by the average level of irradiance and temperature changes. Sampling the voltage value helps evaluate these conditions.
PV module-level monitoring
WiiHey's PV module-level monitoring sensor called "NxSensor™" is a new and innovative device which functions to quickly and efficiently locate a wide range of defects in solar panels. Extensive field tests have shown that operators are able to save up to 40% of their fault-finding time.
The NxSensor™ device integrated in the junction box of a PV module, continously measures voltage and temperature at each module level. Big amounts of NxSensor™ devices could form a wireless MESH network via HOHNet™ - WiiHey's proprietary IoT protocol, through which report status to the cloud database.
With a cloud-based dashboard, the monitoring system is able to detect each module faults, analyse and identify them, provides detailed instructions to operators in what, where and how to be repaired or swapped, and helps to improve maintenance services.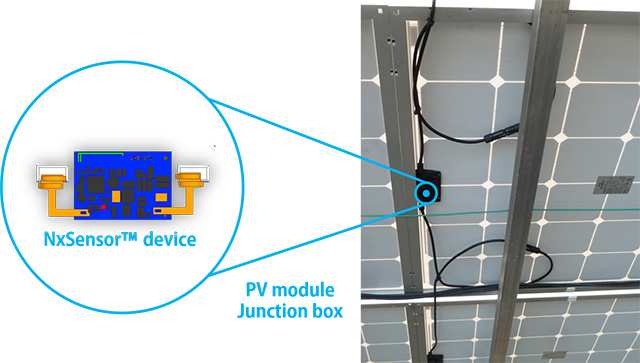 NxSensor™ device inside the junction box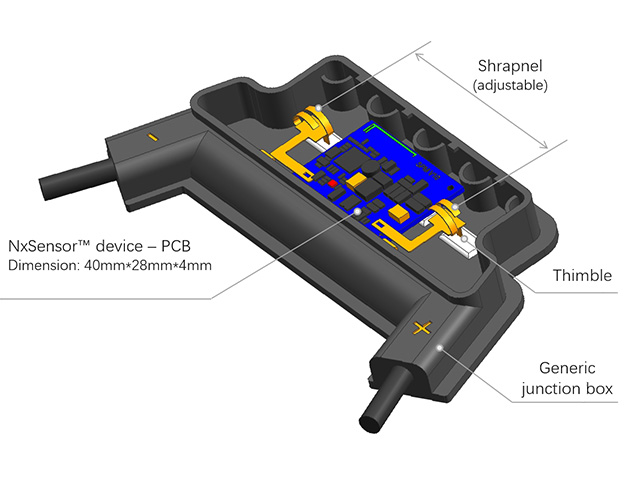 Internal structure of the smart junction box
Tech specs
Voltage measurement from 9V to 48V, with accuracy of ±0.2V;
Temperature measurement from -25 ℃ to 70 ℃, with accuracy of ±0.5 ℃
Compact footprint 40mm x 28mm x 4mm, ideal for embedding in a junction box;
Built-in 600V surge protection;
2.4GHz ISM wireless connectivity for NxSensor™ devices and IoT gateway;
Mesh network capacity: connect 1000 of NxSensor™ devices typical;
Remote access and cellular communications for IoT gateway;
Cloud-based web browser interface;
Key features
Wireless NxSensor™ device installed within each PV module junction box;
Enable module-level monitoring and immediate fault alerts pinpointed on a virtual map;
Self-forming, self-healing mesh network for easy configuration and robust communication;
Enable logical and physical PV site visualization for each individual module and for the whole system;
Remote service capabilities, data is logged on the cloud and can be securely reviewed from web browser;
Benefits
Detect problems before they have a chance to become major issues;
Reduce PV maintenance and troubleshooting costs dramatically;
Simplify the service operation and management at the PV factory site;
Help to optimize and maximize the solar PV system power at module level;
Architecture
The HOHNet™ mesh network enables wireless communication between the NxSensor™ devices and IoT gateways. The support of wireless connectivity saves the time and cost associated with traditionally wire cable communication.
The user terminal is a web-based APP enabling solar PV system operators and customers to track energy generation. It displays performance data in an attractive and easy to understand way which can be viewed on any web-enabled device.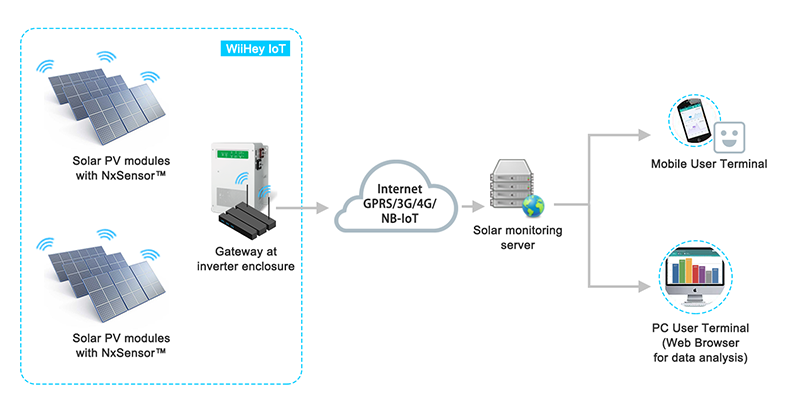 Solar PV monitoring system architecture
Hardware - with minimum configuration
For module-level monitoring, it's important to map the relationship between a PV module and a NxSensor™ device. However, there are thousands of modules in solar panel arrays at a normal PV plant, it would be impractical to configure all these relationship by manual effects.
Since the solar panels always fit in a rectangle array, we take this geometry information into consideration and proposed a neighbor discovery process in the mesh protocol so that one NxSensor™ device node is able to self discover its one-hop neighbours.
For example, in the following topology, we only need to configure the red sensor nodes as the anchor node (usually at array's vertex points), that means the ID and their location information would be manually set to the system. For other sensor nodes (ie. the blue nodes), their ID and location information would be set by the mesh protocol automatically.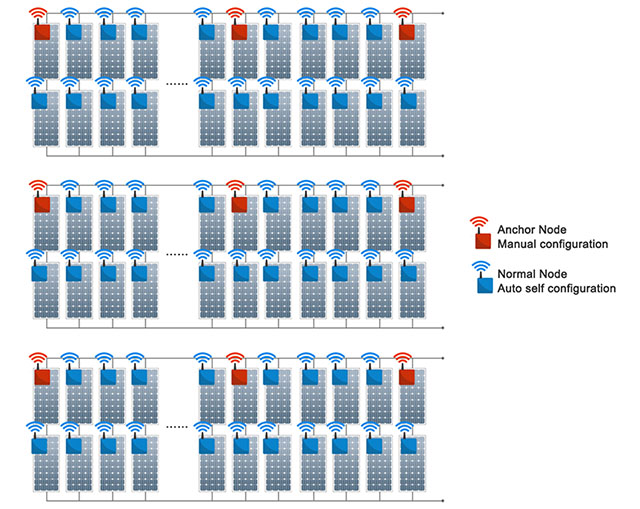 NxSensor™ device configuration
In terms of data transmission, no hardware or wiring is required. By adopting wireless mesh network, data is transferred wirelessly by a bucket relay method to allow long distance communication from NxSensor™ devices to gateways.
Software
The cloud based monitoring platform provides enhanced PV performance monitoring and power assurance through immediate fault detection and alerts at module level.
When the data is accessed on-line, a map clearly displays the location and behaviour of each module in the solar array. If, for instance, there is a fault on a particular solar panel affecting energy performance, it can be identified.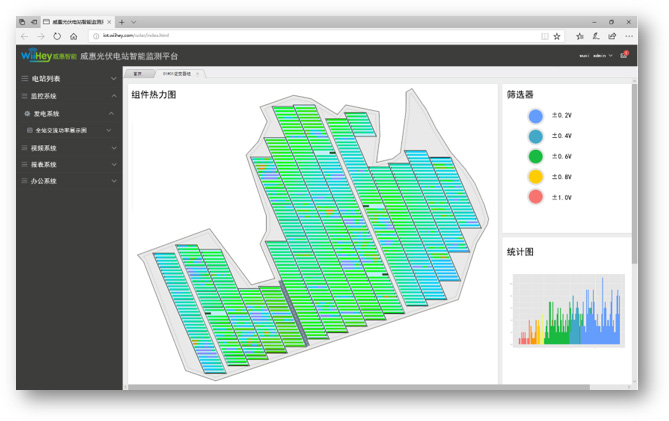 The solar PV monitoring platform
summary
Solar PV monitoring system and its features enable maintenance staff, and system operators to improve the PV site performance, assure the yield of the system, maximize solar power harvesting and reduce maintenance costs by continuously monitoring and resolving faults more effectively.