WiiGate – IoT Gateway

for BLE/LoRa/433Mhz/Zigbee Wireless Sensors
It works as hub and transmitter for some short distance wireless sensors. The gateway itself connects the Internet by Wi-Fi or cellular network and sends the data collected from connected IoT sensors to the cloud sever for further data analyze and application.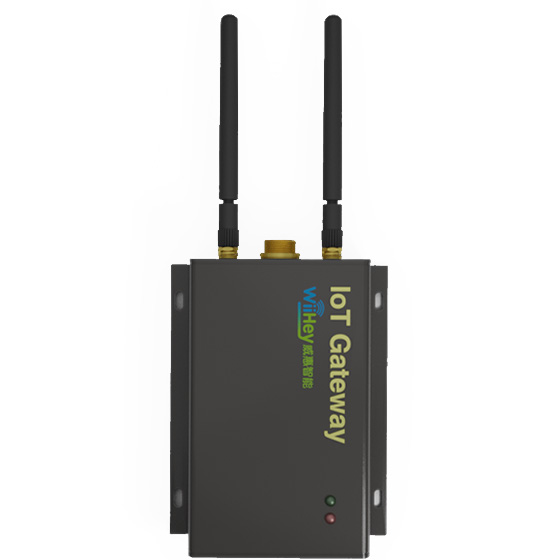 One of the most important aspects of IoT is "how" everything will be connected. Many IoT devices have been deployed in short-range areas such as smart homes and offices. However, the market is now requiring wider coverage networks where LPWAN (Low Power Wide Area Network) is introduced, it describes a set of technologies for transferring very small amounts of data but spreading across a wide area. The LPWAN devices enables a long battery life of several years, reducing operational costs and maintenances.
LPWAN technologies can be divided into licensed and unlicensed bands: LoRa and SIGFOX work in unlicensed bands, while cellular IoT, such as NB-IoT and LTE-M are typically used in licensed spectrum. Furthermore, NB-IoT and LTE-M have been standardized and are part of the 3GPP Release 13.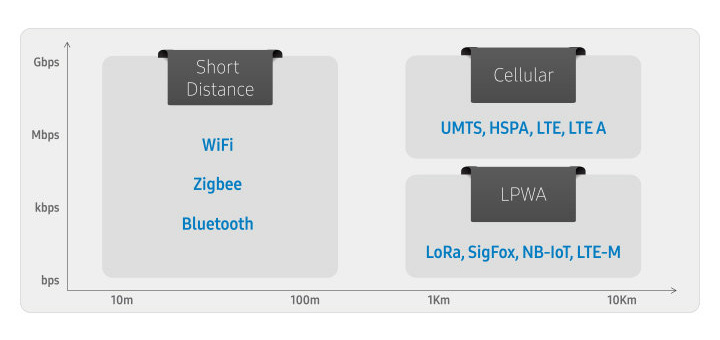 Source: image from Samsung
The gateway connects remote LPWAN devices. It is the network coordinator in charge of things like device authentication, message buffering, communication scheduling, and bridging devices from LPWAN to enterprise network via traditional communication methods like Ethernet or Cellular network. Eventually, users could monitor and manage these devices and the associated assets with cloud-based management systems. For those licensed LPWAN, the telecom operators would take care and be in charge of setting up the gateways, aka, the base stations, as well.
WiiGate is an IoT gateway that may contain up to 4 radio interfaces: a WiFi 2.4 GHz (Access Point), a Bluetooth Smart 2.4 GHz , a Sub-1GHz (868/915 MHz), a GSM/GPRS/3G/4G/NB-IoT. WiiGate also integrates a GPS module for mobile applications and a backup battery that allows the device to continue operating for up to 24 hours in the event of a power failure. These features along with an aluminum IP65 enclosure allows WiiGate to be placed outdoors.
Features
Hundreds of sensors accessed from a single gateway;
Multi-radio interfaces and extensible network connectivities;
Plug & play, simple setup and configuration;
Low-cost cellular service packages;
Remote device configuration and OTA (Over-The-Air) capability;
Local status LEDs with transmission and online status indicators;
AC power supply (DC/POE version also available);
Applications
Industrial grade wireless gateway;
Transmit sensor data to the WiiHey's online sensor monitoring platform;
General
Processor
32-bit ARM MCU
RAM
4M Bytes
Flash
2M Bytes
External storage memory
Support 4G Bytes Micro SD
Internet protocols
HTTP, HTTPS, TCP/IP, MQTT
GPS module
Supported
Sampling
Sensor sampling mode
Synchronized, low duty cycle, continuous, periodic burst, event-triggered
Network capacity
1000 nodes per gateway depending on sampling settings
Connectivity
Radio
a WiFi 2.4 GHz (Access Point),
a Bluetooth Smart 2.4 GHz,
a Sub-1GHz (868/915 MHz, SigFox compatible),
a GSM/GPRS/3G/4G/NB-IoT;
Range
WiFi/Bluetooth: 20 m line-of-sight;
Sub-1GHz: 1~2 km;
Antenna
SMA Type
Ethernet
Auto-negotiation 10/100Mbps
Power
Power supply
110-240 V AC 50/60 Hz;
9 to 36 V DC;
POE (Power Over Ethernet);
Battery life
Built-in backup battery for 24 hours operating
Mechanical
Dimensions
105mm * 130mm * 28mm without antennas or cables
Weight
0.45 kg
Enclosure material
Black anodized aluminum
Environmental
Operating temperature
-20 °C to 75 °C
IP Rating
IP65
The gateway is the coordinator in the network, it schedules communication among remote sensor nodes and bridges them from the LPWAN to enterprise network/cloud database.