WiiMine - Bluetooth Wireless Vibration/Acceleration Sensor
By detecting the 3 axial acceleration change periodically, WiiMine records and calculates the peak-to-peak values and RMS values of the rotary devices to forecast the potential problem or normal aging by continuous observation and comparison.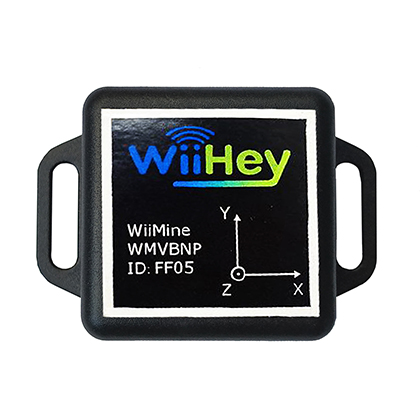 WiiMine incorporates 3-axial MEMS accelerometer, Lithium battery, BLE 2.4G Bluetooth module into a small rugged enclosure to detect the vibration peak values. Its measurement range is up to 16g acceleration, sampling rate is up to 1.6 kHz, long life battery lasts 1~2 years, the size is small, the whole parameters make it ideal for many vibration measurement and monitoring applications.
WiiMine performs RMS (root mean squared) averaging for vibration measurement. Because acceleration signals are extremely fast by nature, they require high speed sampling and computationally intensive processing. The onboard RMS algorithm provides a slow moving output so that it can be easily measured by a low speed system, greatly simplifying vibration monitoring and measurement works.
WiiMine supports two mounting methods: adhesive mounting and magnet mounting. Adhesive mounting is used with industrial strength double-sided tape for dielectric surface targets, while magnet mounting is used for Iron surface targets. Its rugged enclosure assures accurate vibration data acquisition.
Features
Capacitive MEMS (digital) accelerometer;
Built-in lithium battery;
No hard wires - wireless Connection;
Easy installation: adhesive mounting or magnet mounting;
Optimized for low energy, long battery life;
Expandable to 20 pieces sensor nodes per gateway;
Factory calibrated average vibration output;
Adjustable sampling rate and filtering in software;
Date output: JSON from serial port, HEX from TCP port;
Applications
Machine vibration monitoring, e.g. fan motors, air compressors, speed reducers;
Vibration measurement and alarm triggering;
Vibration Measurement
Sensor
3-axial MEMS accelerometer
Measurement range
± 8 g (± 4 g , ± 12 g , ± 16 g available)
Resolution
0.001 g
Sampling rate per channel
Up to 1.6 KHz
Frequency response within ±5% accuracy
0 Hz to 800 Hz
Filter
Digital filtering (RMS) for stable measurement
Angle Measurement
Range
360° single axis angle measurement
Resolution
0.09°
Temperature Measurement
Range
0 to 60 °C
Accuracy
± 0.5 °C, 15 to +40 °C
Humidity Measurement
Range
0 to 100% relative humidity
Accuracy
± 3.5% rH, 20 to +80% rH
Wireless Connectivity
Radio
Vibration/angle measurement: 2.4GHz ISM Bluetooth Smart;
Vibration/angle alert: Bluetooth Smart/Sub-1 GHz;
Range
20 m line-of-sight
Antenna
Built-in PCB antenna
Power
Power source
Built-in lithium battery
Battery life
1 year @ data uploading rate every 5 minutes (typical)
Mechanical
Dimensions
52 mm * 36 mm * 20 mm (main body)
Weight
60 g
Environmental
Operating Temp
-15 °C to +70 °C
IP Rating
IP65
In a WSN topology, multiple WiiMines (as many as 20 sensors) can send vibration data to a gateway (the WiiGate) via a wireless protocol (BLE 2.4G or Sub-1 GHz). The gateway connecting to the Internet would transmit data to the cloud-based computing platform (the WiiMatrix). Users can monitor or measure the vibration data through web-based device, such as, mobile phone or PC.